Participate
Food Vendors
Be the flavour of vintage motorsport!
APPLICATIONS ARE OPEN FOR FOOD VENDORS AT THE GEELONG REVIVAL MOTORING FESTIVAL
We are always looking for new and interesting food and beverage options that fit the flavour of our event!
The Geelong Revival Motoring Festival provides vendors with a great platform to sell their products to an expected crowd of over 50,000 along the Geelong Waterfront. By booking a site at the event, vendors also get to be among all the classic cars, motorbikes and racing that the festival has to offer!
Vendors have the option of bumping in on the Friday afternoon and leaving their sites set up overnight. There is 24hr roving security throughout the precinct, so your site will be kept safe at all times, and you'll only need to set up once!
DON'T MISS OUT, APPLY NOW!
To avoid disappointment, make sure you submit your application now, as places are strictly limited and this is one opportunity that you don't want to miss!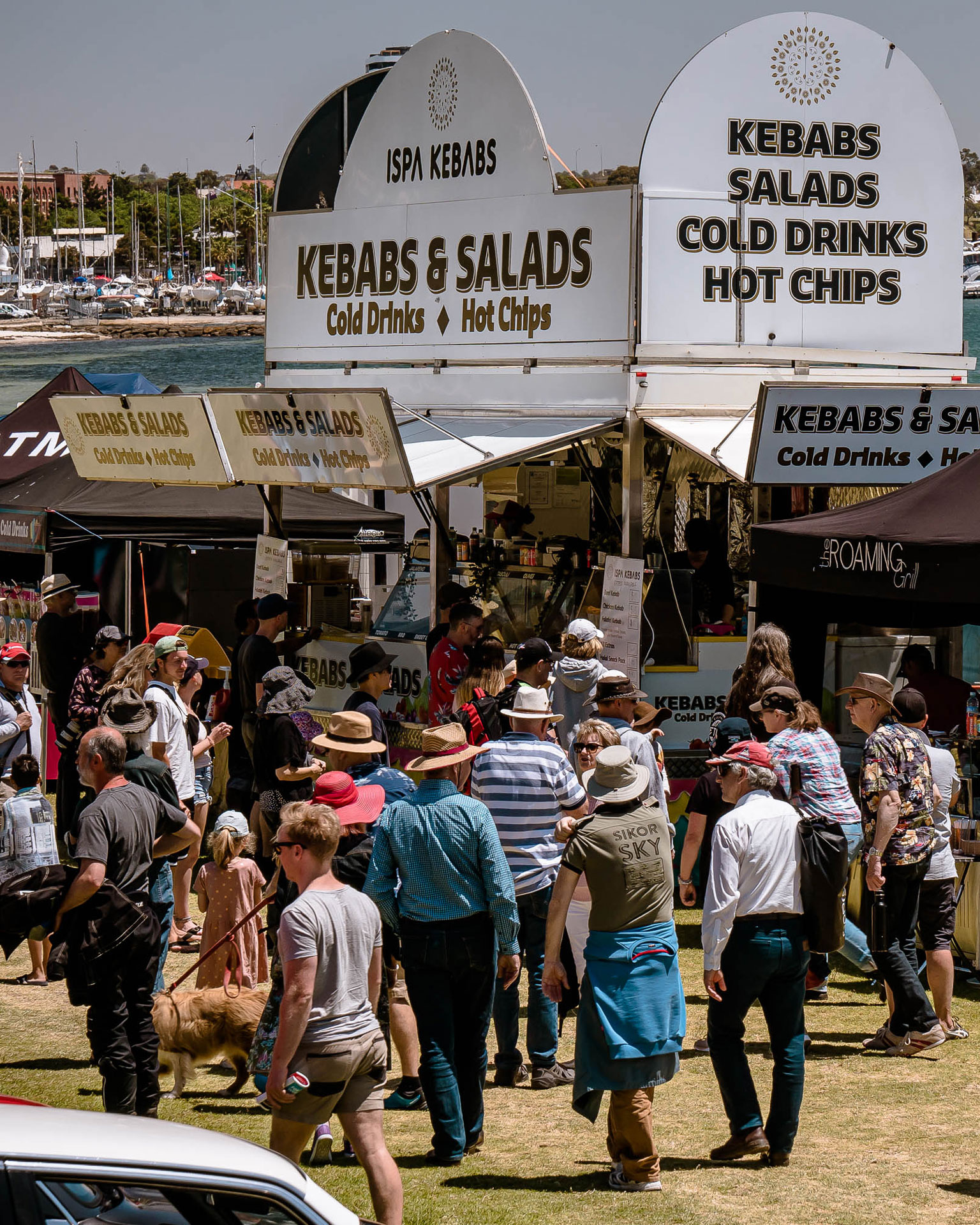 The Details
Here are a few helpful details to help make sure your food vendor site is a hit!
Power
No external generators are to be used at the Geelong Revival Motoring Festival.
Failure to comply will result in your site being shut down for the duration of the festival and no refunds issued. If you need power, you must clearly outline your requirements. There will be no power available on the weekend if you have not outlined your requirements.
10amp, $150
15amp, $200
32amp 3-phase, $300
Additional amps, $100
Refuelling
There is to be absolutely no refuelling at the event precinct at any time before, during or after the event.
Any site holder found to be refuelling will be removed from the site immediately.
Food Safety Registration
To avoid disappointment please ensure your business is currently registered under the Food Act and has a Food Safety Program in place, which covers off-site events. Additionally, food vendors not already registered with the City of Greater Geelong are required to obtain a Temporary Food Premises Permit from the City of Greater Geelong.
Please provide a copy of your food safety registration with your application.
Water Supply
There is no water access on site at the Geelong Revival Motoring Festival. If your site requires water you must supply it.
SUBMIT YOUR APPLICATION NOW
All applications will be reviewed and successful applicants will be informed and invoiced accordingly.
Please return your completed application form (along with any relevant supporting documents such as menu, images of site etc.):
– By email to info@geelongrevival.com.au with "Food Vendor Application Form" as the subject line
– By mail to 6 Brougham St, Geelong VIC 3220
Food Vendor Application Form
"*" indicates required fields